Be at The Outpost for an amazing Sinulog 2011 weekend, full of concerts and celebration!
The events after the jump!
No Boundaries, 15 January 2011 (Saturday), 8 PM
Different bands from different hometowns with different beats but through music, all transcend boundaries.
Cebu's own POWERSPOONZ, CUARENTA, ISLAND JOE, & EVE'S GARDEN share the stage with Cagayan de Oro's GRUPONG LAYA, and Manila's MIDSUMMER, BAD BURN, and SKY CHURCH!
World Music Plus!!! Day, 16 January 2011 (Sunday), 8 PM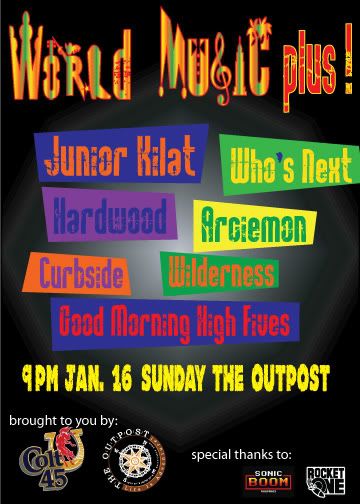 Revel with reggae, flamenco, ska, latin, and rock!
Cebu's pride JUNIOR KILAT, WHO'S NEXT, and HARDWOOD together with Dumaguete's ARCIEMON, and Manila's GOOD MORNING HIGH FIVES, CURBSIDE, and WILDERNESS!
Know more from The Outpost, Where Life is Adventure.